Adaptable LCD display 156x64
pixel with fl at to MERCEDES W203
and AMG W203 dashboards
(models up to 2004).
It does not need to be soldered,
but inserted in the connector on
the board.
Size: 97x50mm.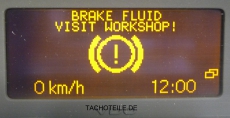 Customers who bought this product also bought the following products:

Instructions for Pixel Error Repair at Mercedes W203

0,00 EUR

( VAT excl. excl. Shipping costs)

Genuine Mercedes-Benz Instrument Cluster Removal Pulling Hook Tool

14,99 EUR

(19 % VAT incl. excl. Shipping costs)
This Product was added to our catalogue on 16/01/2018.